Skip to Content
Hotels In Miami
About The Setai Miami Beach
A gem among hotels in Miami, feel inspired by a place where undivided attention is tailored to your unique sensibilities. A place where time-honored philosophies endure and are strongly felt throughout masterful dining, leisure and spa experiences, exceptionally appointed accommodations and immersive spaces. Why would you stay anywhere else in Miami Beach?
Hotel Highlights
Award-Winning Accommodations
Valmont Spa
On-Site Gallery Shopping
Elevated Culinary Experiences
Access to the Best Spots on South Beach
Three Climate-Controlled Infinity Pools
The Setai by Republic Custom Bicycle Fleet
On-Site Fitness Center
Meeting Spaces
Venue Spaces
Complimentary Wi-Fi
En-Suite Apple TV
Two Universal Electric Vehicle Chargers
Two Tesla Chargers
Les Clefs d'Or Concierge Services
Valet Parking
Palm Angels X The Setai Bath Amenities
The Setai commands a fashionably serene swath of Miami Beach where you can lounge all day on white sand and gaze at an expanse of turquoise that seems to go on forever. Our guests enjoy access to daybeds and our beach service offers jet skis for rent. Craving a bite? Our hotel's solar-powered culinary station, The Setai Beach Kitchen, is ready to oblige.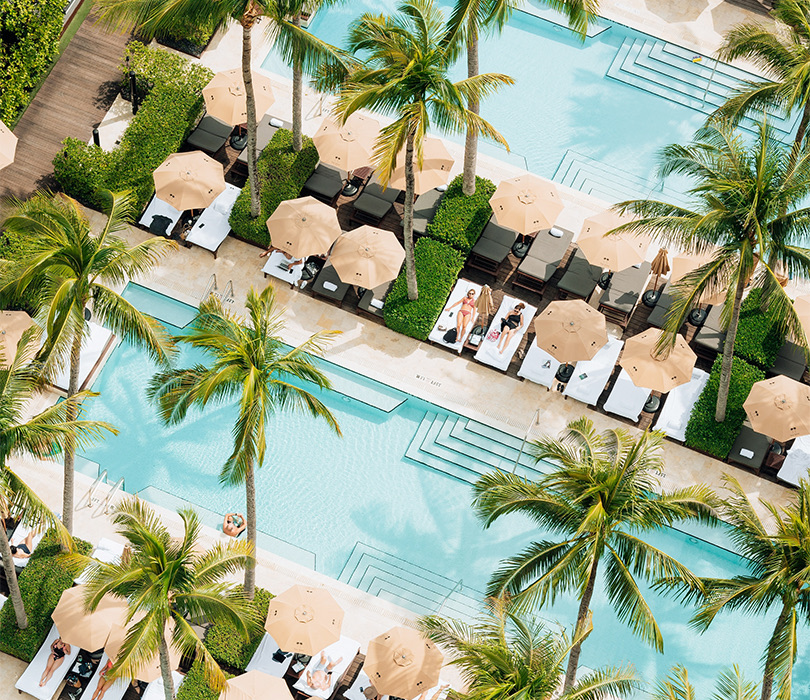 Pools
Oriented from east to west to capture spectacular sunrises and gorgeous sunsets, our three infinity pools each have a different temperature. Swim laps in our 75-degree lap pool, lounge poolside by our 85-degree center pool, or take everyone for a dip in our family pool, kept at a warm 90-degrees.
A Nightlife Destination
Courtyard
Serene and tranquil by day, glamorous and captivating by night, our iconic courtyard features towering pergolas of darkly rich woods and The Setai's iconic serenity pond, where guests lounge or meditate in sunlight. Once the sun sets, the courtyard transforms into a coveted space for some of the best dining and socializing in all of Miami Beach.